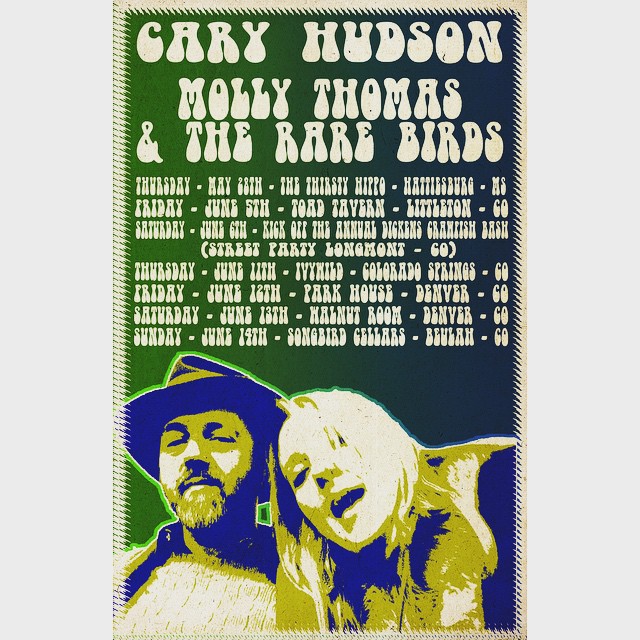 Good morning...almost afternoon everybody!
Just a quick note to thank everyone who has signed the mailing list, come out to shows, bought merchandise, emailed to say hello, etc, etc.
I would also like to announce shows coming up with our friend, 
Cary Hudson
, from Hattiesburg, MS. My band, 
Molly Thomas & The Rare Birds
 will be touring, starting today, with Cary and traveling all the way to Colorado for the next several weeks. You can visit my website to view our 
dates.
I am currently writing new songs and hoping to get something recorded in the next year. As many of you know, I am not a speedy person, so having the right songs, recording them in a manner that is true to the song takes a lot of time and thought. Still relatively new to marriage and an instant family, I am easily distracted and my energy is directed towards taking care of the kids and home, as it should be. That doesn't leave a whole lot of energy for creating, so bare with me folks! I'm getting there :) It's all been a beautiful change in my life, and I am grateful. 
Tonight, we will be performing in my old hood, Hattiesburg, MS, at 
The Thirsty Hippo. 
I hope that we will see old and new faces in the crowd. Please come say hello and bring some friends!
To all you Colorado folks, see you in June!
Since we are hitting the road and leaving home, I thought I would include a free download in this email. I wrote this one with my good friend, 
Amelia White
. "Leaving in My Blood."
Thanks and have a great day!
Peace & Love,
Molly