New SINGle
A COVID-19 2020 recording experience... This was a joint recording effort by each band member. Molly recorded in her home, Blue Print Studio. Rick Hirsch recorded electric guitars in his Studio H2O. John Keuler recorded bass and BG vocals in his home and John Milham recorded drums in his Green Roof Studios in Laurel, MS. 
Notes from Molly: 
This song was written during the COVID-19 lockdown from various conversations with myself taking comfort in the simple fact that in all chaos and seeming defeat, we will all be okay. I don't intend to discount the many untimely deaths and severe illnesses resulting from this horrible virus. They cannot be ignored as we try to come together to understand. Something to consider throughout all of the world's experience this year is even in death and illness, those of us living must find peace by turning the volume down, resting, protecting each other in distancing, and being with loved ones — even by phone. Perhaps as we reflect on 2020 with gratitude that we were forced to go deeper inside ourselves to meet head-on such impending doom as, suffering, loss,  hunger, unemployment, show cancellations, quarantines, hurricanes, fires, anxiety, etc., we may possibly see ourselves in a new light.  
One more thing... I'd like to give a big THANK YOU to all of the health care-workers who have worked so diligently throughout this time. We pay homage to YOU!
Peace & Love,
Molly
Artwork by Laney Milham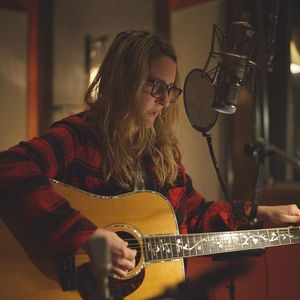 Molly Thomas is unfiltered 'south.' She is the feel and the sound of the southern United States. In an America where food chains, homogenized broadcasting and department stores oppress the uniqueness of any time and place, Molly manages to sound untouched 
and singular in her expression. She's vulnerable and stubborn while she honors the themes of loneliness, literature and that ethereal humidity that comes with the southern perspective.
With her new release, Honey's Fury, Molly Thomas has seamlessly woven 12 songs into a powerful album. Thomas effortlessly transforms the depth, range, and complexity of her existence into enlightening learning experiences that are touching and inspirational to her listeners. "Molly Thomas sings what my guts can't find the words to say. She offers us the freedom to sit back and listen while she explores heartache on our behalf. I feel lucky I found her music." - Jason Segel (actor) Born in Ocean Springs, Mississippi, Thomas has made her home in Alabama, Mississippi, and Tennessee, a hive for songwriters and artists whose emotive storytelling and beautifully gritty swampy swagger personify the region. As a side-person, Thomas has recorded and toured internationally, including late night performances on David Letterman and Jay Leno's Tonight Show with folk icon Todd Snider. Her violin, string arrangements and vocals have been featured on recordings and live performances with Guster, Matthew Ryan and Will Hoge amongst others, and her reputation as a songwriter, multi-instrumentalist and collaborator speaks for itself. Throughout her career, Thomas has released three critically acclaimed records as a solo artist and her music has appeared in films.